MONEY IN THE GROUND -
Insider's Guide to Oil Deals
is the Petroleum Industry Reference Book
on oil and gas investment.(ISBN 0-9615776-6-5)
Here's what the experts are saying ...
"...secrets your brother-in-law
the 'investment banker' won't tell you
about oil and gas investments ..."
---
"... contains some of the clearest
explanations of oil and gas investments
we have ever seen ..."
---
" If you are considering and oil and gas investment, don't lay a nickel on the table until you've read this book ..."
---
"... this book is designed for the
potential oil and gas investor. Helpful and simplified.
Adequate treatment of every relevant aspect
of petroleum investment, from geology to taxation..."
---
"... we rate your book on oil and gas investment as excellent ... and would recommend it to others. We made it required reading for employees of our company, which specializes in oil and gas income and petroleum tax accounting."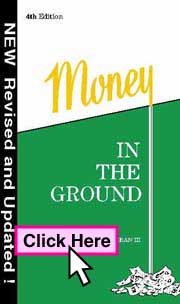 Table of Contents (416 pages)
Foreword
Acknowledgements
Introduction
1 PETROLEUM - "Rock Oil"
2 GEOLOGY - Where are the rocks?
3 LAND - Who owns the land?
4 DRILLING - Getting to the rocks
5 CASING POINT ELECTION - Are there holes in the rocks?
6 COMPLETION - Is there oil in the holes?
7 PRODUCTION - Getting it out of the ground
8 SELLING OIL AND GAS - Who gets what?
9 TAXES - General Since the Boston Tea Party
10 TAX BENEFITS - For the oil and gas investor
11 DEAL STRUCTURES - Among oil industry partners
12 LIMITING LIABILITY - and the 'flow-thru' principle
13 OIL & GAS PROGRAMS - for investors
14 ALTERNATIVES - Investor's Choice
15 PERFORMANCE - "A bird in the hand..."
16 NEW TECH - There's always a better way...
17 WHAT ABOUT THE FUTURE?
Appendices
A Oil Terms • Severance Tax • Basins
B Authorization for Expenditure
C Tax & Securities Law Influence Oil Deals
D Classifications for Federal Income Tax Purposes
E Risk Factors
F New Technology
Notes
Recommended Resources
Glossary
Index
---